Colombu: India's U-19 team defeated Bangladesh by five runs in the Asia Cup final on Saturday thanks to a dangerous five-wicket haul on the left-arm spinner Arthur Inkulkar's 28-ball knock. ۔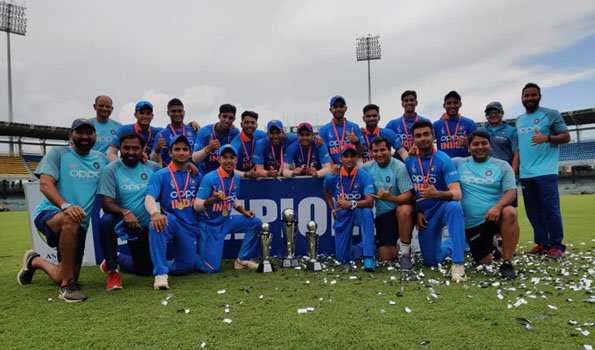 The Indian team decided to bat first after winning the toss, but in 32.4 overs the whole team was bowled out for 106. The bowlers, though, defended the small score very well, bowling dangerously, and rivaling Bangladesh by just over five runs off 101 overs in 33 overs.
The credit for defending India's small score goes to 18-year-old Arthur Inkulkar, who struck out five in his eight-over 28-ball bowling. He also had the best support of team fast bowler Akash Singh, who gave up three wickets for 12 runs in five overs. Vidyadhar Patel got 25 runs and Sushant Mishra took one wicket each.
Both teams bowled in the final match of the Asia U-19 World Cup played at Sri Lanka's AR Prem Das Stadium. Chasing just 107 runs, the Bangladeshi team captain Akbar Ali scored 23 runs and Murtaza Chaudhary scored a huge 21 and scored some runs in front of the Indian bowlers. Hassan Saqib scored 12 and Raqibul Hasan scored 11.
Bangladesh's start was so bad that its opener Tanjid Hassan bowled the ball to the skies at zero. After that, Patil dismissed Pervez Hussain Amon (5) and Mahmoodul Hasan (1), Tawheed Chowdhury (zero) fell victim to the skies. Shahadat Hussain (3) was dropped by the Ortho Inquisitor before returning to the Bangladeshi team's opening five batsman's pavilion.
Raqibul Hasan remained unbeaten on 11, while Arthur the Inquisitor bowled Shaheen Alam five runs away from the target at zero and ensured India's win and address. Ortho Onclicker was chosen Man of the Match for his performance.
Earlier, the Indian team's batting performance was disappointing and its top three batsmen - Swadhikar Prasad (4), Arjun Azad (0) and Tilak Verma (2) returned to the pavilion in cheap and only eight-run intervals. But India lost three wickets. However, captain Dhir Jarrell scored 33 runs and lower-order Kiran Lal scored a useful innings of 37 runs to give the team a fighting score. In addition, Shashwat Rawat scored 19 runs and was only the third batsman to reach double digits from the team.
Vernon Laude (0), Arthur (2), Sushant Mishra (3) and Vidyadhar Patil (zero) were out. Chaudhry's dismissal of Bangladesh by Kiran Lal (37) smashed two innings of Indian innings with 33 balls to spare. For Bangladesh, Chowdhury gave up three wickets for 18 runs in 7.4 overs and Shamim Hussain took three wickets for 8 runs in six overs. Hassan Saqib got 22 runs and Shaheen Alam got one wicket each for 26 runs