Ratania's famous boxer Tyson Faurey wins an international boxing match in the American city of Las Vegas. Wallen faced. The British boxer boldly won the match after a unanimous decision by the judges. In this way, Fury kept up the pressure not to lose any match. Tyson Fury was injured by a powerful punch by Otto Wallen over the right eye after the match began. The wound remained bleeding throughout the contest but failed to diminish Fury's courage. With a punch from Wallen, Fury's eye wound up in the third round, and he not only managed to keep up the contest for nine rounds but also won the match. After the injury, there was an impression that Tyson would withdraw from the Fury match but he continued to compete.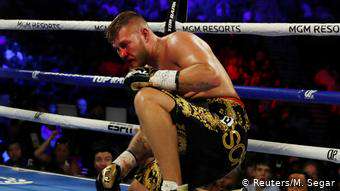 According to the three judges, Fury was leading the way, but Otto Wallen was not far behind. He also managed to earn points quickly from his attacks. It was also believed that Fury would be able to easily knock out his Swedish rivals in this match but that did not happen. The Swedish boxer has consistently entangled Fury with his impressive footwork and attacks. Fury was also thought to be one of the reasons for this match's draw. Faveri called it a strong match after the match was over. According to Fury, the condition of the contest changed after the eye injury.
Some experts believe that if Fury was not injured, he would certainly have succeeded in knocking out Wallen, but after the injury, he was worried that the wound had to be protected from any further punches. ۔ Otto Wallen was defeated for the first time in base boxing. In this match, they stayed close to Favri and the referees gave them special points but they were lower than Favri. Favri has played thirty matches so far and has not lost any matches, though one match he managed to keep up with American boxer Daytona Welder. Fury will now have a rematch with the American boxer next year. American boxer Deontay Welder is currently the World Boxing Council's champion boxer, while the remaining three are the International Boxing Federation's champions Andy Ruiz Jr. Ruiz won all these awards in a shocking defeat to Anthony Joshua this June. The international competition between the two now borders the Saudi capital, Riyadh, on December 7.